4 Ways Peppermint EO Enhances Beauty
Four Ways Peppermint Can Pump-Up your Beauty Routine:
1. Acne for Face or Body!
For Face: Mix 6 drops of organic peppermint essential oil with 1 teaspoon of carrier oil (coconut, jojoba, etc) and 1 teaspoon of water. Use this as a spot treatment with a cotton swab at night and wake up clear. You can also add a few drops to your favorite moisturizer to prevent acne.
For Body: Add 12 drops of organic peppermint essential oil for each fl. ounce in your regular body wash to help keep your body soft and acne free!
"Peppermint oil naturally cleanses the skin and has antiseptic and antibacterial properties. It has a cooling effect which soothes irritation and inflammation due to acne," said Dr. Debra Jaliman, a New York City-based dermatologist, assistant professor of dermatology at the Icahn School of Medicine.
2. Luscious lips
Peppermint helps to stimulate the circulation under the lips and creates a "swelling" effect, thus making your lips appear fuller! Add a few drops of organic peppermint essential oil to your lip gloss and enjoy fuller lips.
3. Promote Hair Growth & Get Rid of Dandruff
Add 5 drops to your regular shampoo in the palm of your hands and wash your hair with it. Or create a hair oil by adding it to coconut or sweet almond oil. We recommend our Headache Diffusing Oil because it also has Lavender + Peppermint to leave your hair smelling amazing!
"Peppermint oil is great for your hair and scalp. It helps with dryness or itching (which is great for this time of year). It helps with dandruff because it has antiseptic and anti-inflammatory properties.It also helps strengthen hair roots which will help with hair loss," said Stephanie Brown, master hair colorist at the Eddie Arthur Salon in New York City.
4.Stimulate Nail Growth with Natural Nail Cuticle oil
Use cuticle oil to stimulate healthy nail growth, prevent infection and protect your polish and shine. It also helps improve the health and appearance of your nail. Our headache roll-on doubles as a great nail cuticle oil as it is already uses organic jojoba oil with peppermint and lavender. As a bonus, you can also use it on your temples when you have a headache!
"Peppermint is naturally antifungal, smells clean and has invigorating aromatherapeutic properties," said manicurist Whitney Gibson.
Natural beauty supports our systems rather than damaging them with synthetic solutions.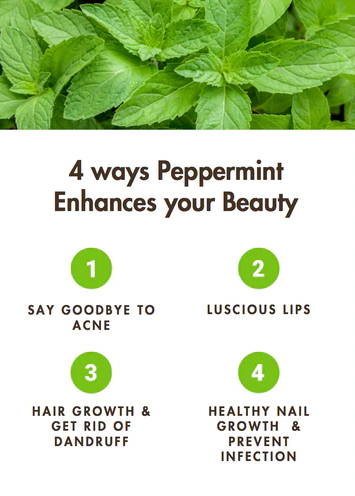 Take our Skin Quiz and see what natural products work best for you.