We are so glad you are here! It makes our heart happy to share with you our passion for plant power!    
21drops was created and grows out of a love for mother nature and natural wellness from the outside in.   
We Take Science Seriously
The science of scent is at the heart of our company! We use specially-selected oils that work together for synergistic health benefits based on extensive research. Each essential oil we select has powerful properties that provide optimal results, and smell great too! 
We have provided in our Essential Oil Guide, scientific studies for each oil we use. 
We Use High Quality Ingredients
All of the essential oils that go into our blends are sourced from sustainable, indigenous habitats and are held to a rigorous, self-imposed therapeutic standard: All of our individual essential oils must be therapeutic quality, 100% natural, and organically grown or wild-crafted. We take it one step further and verify the purity of our oils through 3rdparty testing.
Transparency is important to us so you can find our testing sheets on our website under each oil in the Essential Oil Guide along with a map of where we source the essential oils. Furthermore, we are also one of the few companies to use 100% organic jojoba  (pronounced ho-ho-ba) oil for optimal absorption. We have chosen this high-quality, premium carrier oil because it is most similar to human sebum, which allows it to absorb quickly with deep penetration. It is also naturally anti-aging, anti-microbial, antioxidant rich with vitamins E and B.
Layers of Meaning in our Packaging make it a great Conversation with Customers
Ask them how they want to feel? Do they have any health or mood concerns they want to address? Suggest a blend based on what they say. 
Tired? Sleep
Distracted? Focus
Bloated? Detox
Achy? Muscle Ease or Headache
Anxious? De-Stress
Congested/Allergies? Breathe (great under masks during treatments) 
Ask them if an affirmation resonates with them and explain the Science of Scent.  Smell is the only sense connected to the limbic lobe of the brain, which controls emotions and behavior. This is why each blend is synergistically paired the affirmation on the box. 
Ask them if a color resonates with them. The blends have also been color coded to match chakras with the oils that would best put them in balance.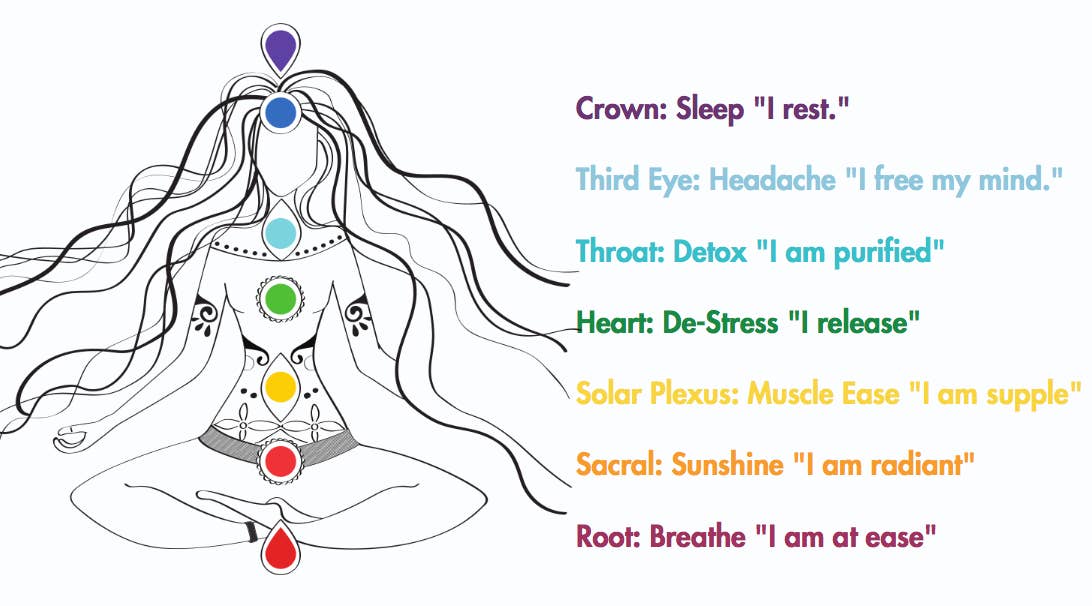 We are Customer Obsessed!
We love you! We want to spread love and wellness so if there is anything we can do to help, we will do it. Contact us at customerservice@21drops.com 
21drops can support a full wellness experience for your customers.
Diffuse our Essential Oils to Purify the Air
We recommend diffusing our Headache Essential Oil to Purify the air. Using natural essential oils to purify air can provide a natural and 100% chemical-free way to add a layer of support for your customers.
Headache Combines:
Peppermint essential oil which is an amazing natural cleaning agent. Its impressive antiseptic properties can be attributed to the constituent called menthol. Menthol is an active ingredient covering up to 60% of the oil's chemical composition.
Combined with Lavender, which has anti-microbial properties, smells amazing, and it gives the atmosphere a calming effect.
You can display this card (Download)
Roll-on Under Masks (Download)
Encourage guests to purchase a roll-on to use under their mask to improve and deepen inhalations. Our roll-ons are diluted Essential Oils.  Do not put Concentrate directly on mask or skin as it is too strong and can be harmful.
Upgrade Spa Experiences
 (Download)
Aromatherapy allows you to go beyond physical needs. Often, a physical symptom is being caused by an underlying emotional issue, the right scent can help you tackle it. A full aroma experience starts with diffusing oils in the main area, allowing them to inhale the scent that best fits their mood or need during the service. Incorporate blends into your spa treatment menu and suggest the roll-on as a way to experience it at home. 
 Enhance your guests' experience by using therapeutic, organic essential oils in their treatments. Aromatherapy has been proven to stimulate the emotional centers in the brain, creating a sense of wellbeing. This experience brings your guests back over and over again.
Link to Images– Feel free to any of our IG photos from IG and we have uploaded some to the drive. We always share our partners that tag us @21drops
Education: